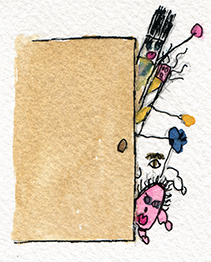 My second book will be coming out soon. The book, "Eddie Easel and the Case of the Missing Green" will be a hard cover book for pre-schoolers to around 7 years old. I decided to print this book in hard cover and I am currently contacting printers for hard-cover book pricing.
I wrote the story and also painted all the watercolor illustrations for the book. This is another story that has been on the back burner for awhile and once I completed all the illustrations, I knew it was time to get it into book-form.
Once we choose a printer, the book will be sent to them for hard-cover book printing. Watch for my announcement when the book is ready for release. As soon as it is, I will be sending emails and making announcements on social media.