Deez Blog
Not only do I enjoy writing books and stories, but I also enjoy blogging. I'm thinking, as a writer, I'm not alone in this pleasure. The point is to write, whatever the final outcome may be!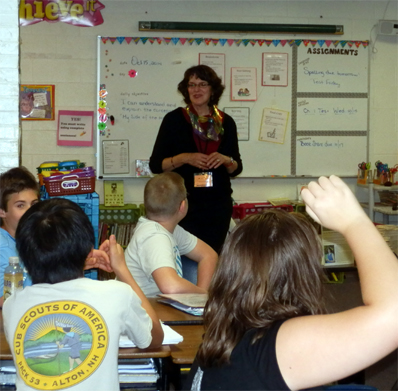 Last week I spoke to the students in grades 5 and 7 at Alton Central School about my book, "The House at the Top of the Trees", the writing process, and also the publishing process.
Yesterday I spoke to the 8th grade classes and today I spoke with the boys and girls in the 6th grade. They all seemed very interested and had a lot of great questions. Sometimes we were lead in a different direction but it was wonderful to see so much interest in my presentation. One class in particular had so many questions that I finally had to stop them so that I could finish my presentation before we ran out of time.
This was a great learning experience for me and I hope to contact other local schools to share what I've learned through writing and publishing my first book.

My second book will be coming out soon. The book, "Eddie Easel and the Case of the Missing Green" will be a hard cover book for pre-schoolers to around 7 years old. I decided to print this book in hard cover and I am currently contacting printers for hard-cover book pricing.
On October 6 from 8-11:30, October 7 from 8-12, October 14, 9-11:30 and October 15, 8-12, DJ Geribo (and Jim Fontaine on Oct 6 and Oct 14) will be presenting to the 5th, 6th, 7th, and 8th grade students at Alton Central School, the Writing Process, from the first ideas when starting to write a book through the publication process and on to printing and marketing your book.
DJ will talk to the students about the process of writing her first novel, "The House at the Top of the Trees." Jim will explain the necessity of creating a website. The students will then ask questions and books will be available for a book signing.
This presentation coincides with the contest that DJ Geribo has publicized through the Gilman Library and through an article in the Baysider paper. The contest challenges each student to find a house that appears to be sitting at the top of the trees, which was DJ's inspiration for writing the book. Photos should be sent to BBD Publishing's email (contact) along with the location where the house was found. Three winners will receive an autographed copy of the book, "The House at the Top of the Trees", and will be announced at the Gilman Library on Nov. 22, 2014.

As a full-time writer (and artist), I use many sources to improve my skills on my path to becoming a better writer. One of my favorite resources is the Writer's Digest magazine, which I receive electronically.
Subcategories
Where am I signing books? This page will tell you that. If you'd like to have a personalized autograph in one of my books, you may bring it to any of my book signings. Don't have a copy of the book, yet? No problem, I'll always have plenty on hand at my signings. I look forward to seeing you there! (And of course, you can order right here at my website, too!)
New News
Article Count: 10
You can find all the latest BBD Publishing news right here!